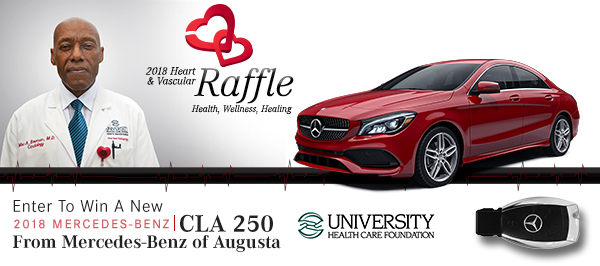 At Mercedes-Benz of Augusta, giving back to the community is an important part of our mission. That's why we're raffling off a brand new 2018 Mercedes-Benz CLA 250 in support of the Mac Bowman, M.D. Endowment at the University Health Care Foundation.
Show your support by entering to win in Augusta, Georgia today!

The Mac Bowman, M.D. Endowment In Augusta Georgia
The Mac Bowman, M.D. Endowment funds community education, programs that improve cardiovascular health, cardiac rehab patient support, health screenings and student-athlete screenings.

Buy Your Tickets At Mercedes-Benz of Augusta Today!
Tickets are on sale and can be purchased for $100 dollars each. The more tickets you purchase, the more funds we can donate to this special cause – plus, you increase your chances to win a new luxury Mercedes-Benz!
Proceeds will go to the Mac Bowman M.D, Endowment.
In addition to a grand prize Mercedes-Benz winner, we'll also be selecting several winners for prizes including a diamond pendant from Windsor Jewelers, a one-year membership to Evans Fitness Center and two $500 Visa gift cards.
The drawing will be held on Thursday February 22nd, 2018 from 2 pm – 6 pm at Mercedes-Benz of Augusta.
Participants do not need to be present for the drawing in order to win. If you have additional questions, contact Mercedes-Benz of Augusta for more information.